16 Aug

COURAGEOUS TO GO FORWARD
by Alison Seow, Acts Klang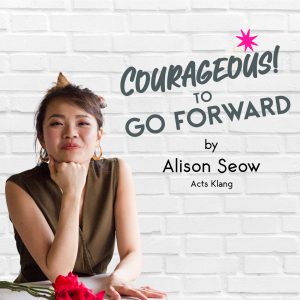 The 12 months following the birth of my second child was one of the hardest for me. I had left the marketplace to be a stay-at-home mum to my two children, but always felt restless, dreaming of projects and business ideas.
In my pyjamas from morning to sundown and in my nursing chair I would ask God, "Why would you equip me with these abilities, only to keep me here? All my peers are shooting overhead in their careers, so why am I the one who has to step back? My prime years are passing me by. When will it be my turn?"
But God has shown me that there is no wasted season and no wasted effort. He is a God of progress, helping us to look ahead and not turn back. He showed me that the toughest days of raising small children weren't just for the children, but for me to build resilience and efficiency.
That one year of doing "nothing" quickly passed and God opened doors for me, bringing helping hands at the right time and revealing wisdom and business sense to me to start my own flora studio. God saw me in that nursing chair and He knew everything I thought and felt.
I've learnt to flow with God's plans
Instead of striving, I've learnt to flow with God's plans for the season. When we don't see flowers blooming above ground, trust His process and His timing that underground, He is working on roots that will be the foundation for beauty.
---
by Wei Ning, Acts Subang 130PM My career progression is a testament to God's goodness. Despite the horror stories I've heard about being in audit, God taught me to put Him first above all jobs or deadlines. God taught me to put Him first above…

by Tricia Low, Acts Cheras There was a time in my life when everything was smooth and good. There were no challenges, no tough times and nothing to 'ask' God for. Slowly, I reduced my time with God. My one-hour devotion became 30 minutes, then…

by Alison Seow, Acts Klang The 12 months following the birth of my second child was one of the hardest for me. I had left the marketplace to be a stay-at-home mum to my two children, but always felt restless, dreaming of projects and business…
---