03 Aug

COURAGEOUS TO OBEY
by Winnie Lim, Acts Subang 1030AM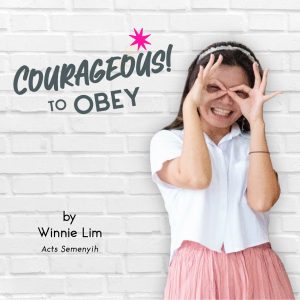 When I was offered a job in Selangor, I was praying for a new church plant to root down. After being in Acts Semenyih for many years as a student, I was ready to start afresh as a young working adult.
I was excited at the prospect of different ministries and church plants that I could serve in. However, God spoke to me clearly to root down in Acts Semenyih and to serve in the campus ministry, which were my last options.
In short, I was afraid because after having left for good, it felt like many things have changed and I was no longer familiar with the community anymore.
But more than that, it was having to decline company dinners and overtime requests, due to church and work commitments clashing. I always questioned if one day my boss would be fed up with a Christian like me. Eventually God's Word helped me to sail through the storm and make God-fearing decisions. The fact that I have rooted down in Acts Semenyih, am serving in the campus ministry and striving to be a Daniel in the marketplace is a testimony of a courageous spirit from God.
For God has not given us a spirit of fear, but of power and of love and of a sound mind. (2 Timothy 1:7)
---
by Wei Ning, Acts Subang 130PM My career progression is a testament to God's goodness. Despite the horror stories I've heard about being in audit, God taught me to put Him first above all jobs or deadlines. God taught me to put Him first above…

by Tricia Low, Acts Cheras There was a time in my life when everything was smooth and good. There were no challenges, no tough times and nothing to 'ask' God for. Slowly, I reduced my time with God. My one-hour devotion became 30 minutes, then…

by Alison Seow, Acts Klang The 12 months following the birth of my second child was one of the hardest for me. I had left the marketplace to be a stay-at-home mum to my two children, but always felt restless, dreaming of projects and business…
---