12 Aug

COURAGEOUS TO BELIEVE
by Andra, Acts Nilai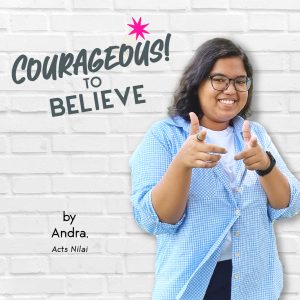 "I was adopted by a Christian couple who didn't have any children back then. But my childhood was not an easy one. In primary school, I was bullied for my darker skin tone and I often felt sad and discouraged.
Upon the age of 12, my MyKad application was declined and my MyKid taken away by JPN, the National Registry. I became stateless and encountered many challenges like free education, travelling, opening a bank account and more.
My parents consulted a lawyer, requested letters from Members of Parliaments (MPs) and attended court. They even wrote to the Home Minister to appeal for my citizenship, but their efforts were in vain.
During this time, my mum took a step of faith to surrender my predicament to God. She fasted and prayed, along with her siblings and close Christian friends. Despite reading the news about stateless children, we never gave up praying and trusting God.
I was eligible for citizenship and a MyKad!
Three years later, I was requested to be present at the Home Ministry with my dad. There, he was given a letter stating that I was eligible for citizenship and a MyKad! We were thrilled and overjoyed. Praise God for His goodness!
---
by Wei Ning, Acts Subang 130PM My career progression is a testament to God's goodness. Despite the horror stories I've heard about being in audit, God taught me to put Him first above all jobs or deadlines. God taught me to put Him first above…

by Tricia Low, Acts Cheras There was a time in my life when everything was smooth and good. There were no challenges, no tough times and nothing to 'ask' God for. Slowly, I reduced my time with God. My one-hour devotion became 30 minutes, then…

by Alison Seow, Acts Klang The 12 months following the birth of my second child was one of the hardest for me. I had left the marketplace to be a stay-at-home mum to my two children, but always felt restless, dreaming of projects and business…
---